Hello and welcome to my website! I am a trained and certified mental health counselor. I treat adolescents and adults in a private practice setting.
About me: I received my Bachelor of Science degree in Psychology from George Mason University in 2002. I completed my Master of Arts degree in Community Counseling from Marymount University in 2007. I am a Licensed Professional Counselor in the state of Virginia. I have over 9 years of experience working in the mental health field. I have worked in various clinical settings including; residential facilities for adolescents and adults, community mental health, in-home counseling, day treatment programs, mental health and substance abuse outpatient clinics. I also currently perform assessments and make referrals for adolescents in the public school system. I have worked with various mental health issues and disorders such as; thought disorders, adjustment issues, suicidal ideation, self-injury, anger management, substance abuse, depression, anxiety, phase of life issues, grief, etc.
My specialty is working with adolescents and young adults who are struggling with mood issues such as anxiety and depression. I have a passion for working with this population and feel that this is my niche in the field.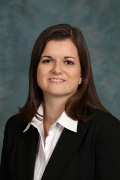 Elizabeth A. Ozalas,
M.A., N.C.C. Licensed Professional Counselor.
Owner & Psychotherapist